ATA calls on Congress to address inflation | Truckers protest AB 5 at Calif. ports
Trucking news and briefs for Friday, July 15, 2022:
ATA urges Congress to address inflation
American Trucking Associations Chairman Harold Sumerford Jr. urged members of the House Transportation & Infrastructure Committee to address areas of inflationary pressure on the trucking industry: congestion, fuel prices and labor shortages.
Sumerford, CEO of J&M Tank Lines out of Birmingham, Alabama, spoke to Republican committee members during a roundtable on inflation, presenting three areas Congress should focus on: investments in physical infrastructure, fuel costs and workforce development.
"More than 80% of American communities rely exclusively on trucks for freight services, so capacity constraints on trucking supply chains caused by inflation and shortsighted policies directly impact the costs for those consumers," Sumerford said. 
In the wake of last year's bipartisan infrastructure bill, Sumerford said Congress should prioritize investments in roads and bridges that enable maximum utilization of trucking capacity to ensure that goods get to market at the lowest possible end cost for consumers. He highlighted the need for infrastructure projects that generate productivity and efficiency as a way to combat inflation, telling lawmakers that "eliminating bottlenecks and making highways more efficient is essential to our economic resilience."
Sumerford also advocated for an "all-of-the-above approach" to reducing fuel costs, noting that diesel prices are $2 per gallon higher than they were just a year ago.
Finally, Sumerford urged Congress to focus on workforce development initiatives to both address the persistent truck driver shortage and help the trucking industry keep pace with increasing freight demand. He suggested that lawmakers do more in federal workforce programs to "prioritize skilled trades and protect the independent contractor model that empowers tens of thousands of owner-operators to enter the trucking industry and grow successful small businesses."
[Related: Inflation surges to new high, small fleet per-mile profits turning negative]
Truck drivers protest AB 5 at California ports
Owner-operators working the California ports of Los Angeles, Long Beach and Oakland halted normal business operations Wednesday to protest the state's AB 5 law that, after the Supreme Court declined last month to hear the case, will effectively do away with the traditional leased owner-operator model in the state.
After SCOTUS' decision to not hear the case, it is being sent back down to the 9th Circuit Court of Appeals, where the trucking industry's injunction will be lifted. It's unclear exactly when that will occur.
The Port of Los Angeles estimated that there were about 100 truck drivers participating in Wednesday's protest, and a small number continued to demonstrate on Thursday. Rachel Campbell, media relations manager for the Port of LA, said there were no disruptions to port operations as a result of the protests.
"Los Angeles Port Police will assist in making sure all parties are able to express their First Amendment rights while also making sure the port continues to operate safely and commerce continues to flow," Campbell added in a statement.
According to Harbor Trucking Association President and CEO Matt Schrap, the protesting owner-operators feel that AB 5 is "a direct threat to their livelihoods."
According to a report from NBC Los Angeles, the protest in Los Angeles spilled out onto the 110 freeway and slowed traffic.  
"The frustration with the total lack of regard by the state of California for a business model that has provided thousands of men and women an opportunity to build and grow a business is now blatantly obvious," Schrap said. "Unfortunately, it didn't matter how many independent drivers stood up and expressed concerns during the legislative process for AB 5 in 2019. They were basically ignored and essentially told by the governor and the legislature what was best for them and their families."
Schrap added that with so many questions still surrounding the law and how it will be applied, "it is no wonder why these truckers have taken matters into their own hands."
Echoing a call from the Owner-Operator Independent Drivers Association, Schrap said direct guidance from California is needed to help owner-operators and fleets understand how the law will be enforced.
"What is also clear and contrary to what has been perpetuated by the author of AB 5 and its ardent supports, is the fact that most, if not all, independent drivers do not want to be employees," he added. "They want to remain independent, but the state has provided zero guidance in how to legally do so. Bottom line, California has basically tossed these drivers and their dreams aside for the sake of political expediency in order to satisfy the wants and desires of special interests."
The International Brotherhood of Teamsters is one group pleased with the outcome of AB 5, calling it "a significant victory in the Teamsters' decades-long battle against misclassification in trucking," said Jason Rabinowitz, president of Teamsters Joint Council 7.
[Related: Supreme Court will not hear trucking's AB 5 case]
Cummins names new president, CEO
Cummins announced Thursday that, effective Aug. 1, Tom Linebarger will end his term as CEO and Jennifer Rumsey, President and COO, will assume the role of President and CEO.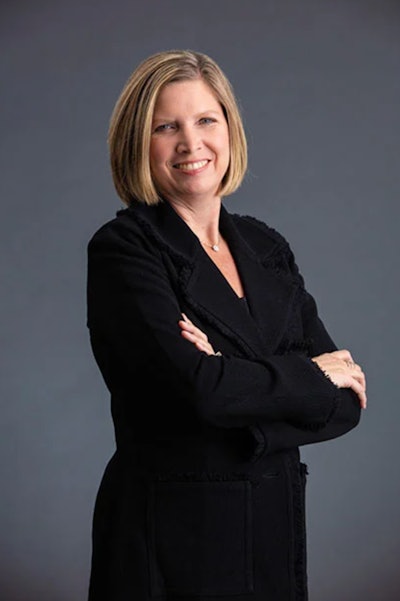 Rumsey will be the seventh CEO and first woman to lead the company since it was founded in 1919.
Linebarger will continue to serve as Chairman of the Board of Directors and in an Executive Chairman role, working directly with Rumsey on specific initiatives that position the company for continued success, including completing the pending acquisition of Meritor.
"Jen is a once in a generation talent and the right leader for Cummins at this important time in our history," said Linebarger. "She has been my partner in developing the Destination Zero strategy, which sets forth how the decarbonization of our industry will be a significant growth opportunity for Cummins. Her background as an engineer and technology expertise provides her a deep understanding of the major technical changes taking place and how to capitalize on them."
Since taking on the role of COO in March 2021, Rumsey has overseen Cummins' global operations. In February 2022, she was elected to the Cummins Board of Directors, and she will maintain her seat on the board.
"I am honored and proud to be appointed the next CEO of Cummins and excited about what the future holds for the company," said Rumsey. "Growing up in Columbus, Indiana, where Cummins was founded, and spending most of my career here makes this announcement incredibly meaningful. I am grateful to Tom for his support and mentorship over the years and to the Board for their confidence in my leadership."
Volvo developing public charging corridor in California
Volvo Trucks North America announced Thursday that is joining forces with Volvo Financial Services, Volvo Technology of America, Shell Recharge Solutions, TEC Equipment, Affinity Truck Center and Western Truck Center to develop a publicly accessible medium- and heavy-duty electric vehicle (MHD EV) charging network that connects several of California's largest metropolitan areas.
With an award from the California Energy Commission (CEC) of $2 million, the Electrified Charging Corridor Project will address key barriers to long-range MHD EV deployments and accelerate widespread adoption. The project will get underway in 2022, with all five stations anticipated to be online by the end of 2023.
"This project will open the door to a truly electrified freight future in which zero-tailpipe emission medium- and heavy-duty trucks are no longer limited to short-mileage, return-to-base operations and can reach far and wide across the state," said Peter Voorhoeve, president, Volvo Trucks North America. "We are excited to begin construction of the Electrified Charging Corridor Project this year in collaboration with these pioneering truck dealerships so that we can further support fleets in successfully integrating battery-electric trucks into their operations, including our Volvo VNR Electric model."
During the next 18 months, the project will deploy high-powered chargers at several existing Volvo Trucks' dealership locations in Central and Northern California, including TEC Equipment Oakland, TEC Equipment Dixon, Western Truck Center in Stockton, and Affinity Truck Centers in Fresno and Bakersfield. They will serve as an extension to chargers already available at the TEC Fontana and TEC La Mirada locations in Southern California.
With publicly accessible charging stations strategically located at convenient intervals, fleets utilizing battery-electric trucks will be able to complete zero-tailpipe emissions routes between Southern, Central and Northern California.
According to the companies, the Electrified Charging Corridor Project has the goal of enabling convenient charging for:
Small business fleets that want to avoid making major financial investments in large-scale charging infrastructure at their site
Fleets looking to pilot an electric vehicle through rental and short-term lease opportunities
Fleets that need an OEM-neutral location to "opportunity charge" along their route