Freight volumes, rates dipped in June
Trucking news and briefs for Monday, July 25, 2022:
For-hire trucking saw more capacity, lower volume, rates in June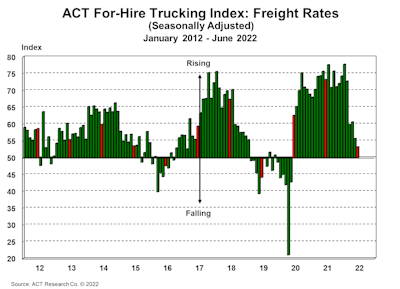 The latest release of ACT's For-Hire Trucking Index showed freight volume and pricing down, with capacity still on the high side, resulting in a lower supply-demand balance in June.
Carter Vieth, Research Associate at ACT Research, said June's index "shows volumes continuing to contract, as sustained inflation and high fuel prices erode consumer confidence."
He added that consumers are choosing to spend more money on travel rather than goods, which is keeping freight volumes down.
"Pricing strength continues to moderate from January's peak, as volumes fall and more drivers enter the industry," Vieth noted. "The Omicron roll-off and Russia's invasion of Ukraine helped hasten the decrease by adding significantly to freight costs via fuel, hurting spot rates, even as consumer spending began reverting to services from goods."
He added, "The supply-demand balance reflects loosening in the trucking market and a late stage in the freight cycle. With improving capacity and slowing freight volumes, the pendulum has finally swung from tight to loose. Recent entrants reliant on spot rates will struggle, and their exit will set up the next tight market."
Regarding driver availability, Vieth said the index's reading "is the first reading above 50 in two years, the 8th highest reading in the index's history and well above the 39.1 average in the 4-year history of this index."
Yellow opens new Driving Academy in Detroit
Yellow Corporation (CCJ Top 250, No. 5) last week opened a new Driving Academy in Detroit, the company's 21st Driving Academy and its first in Michigan, to train the next generation of truck drivers.
Yellow's Driving Academies are comprehensive, tuition-free training programs that provide students with classroom and behind-the-wheel training while preparing them to pursue their commercial driver's license (CDL). After receiving a license, students are offered a driving position with additional on-the-job training at Yellow. Students will also learn the operations side of the trucking and logistics business while being paid a competitive hourly wage throughout the program.
"Our Driving Academies open the door to an entirely new career for men and women who want to earn a good living with benefits. Training our own drivers is also the best way to tackle the driver shortage in America," said Tamara Jalving, vice president of safety and talent acquisition at Yellow. "We're thrilled to own and operate 21 permanent Driving Academies throughout the United States. In the last year, we have opened nine new Academies, with more scheduled to open later this year in other parts of the country."
Each of Yellow's Driving Academies is certified as a Department of Labor apprenticeship program, which is designed to provide paid on-the-job instruction for workers as they prepare for a career that is in high demand. 
In addition to the new Driving Academy in Detroit, other Yellow Driving Academies are located in Atlanta/Marietta, Georgia; Charlotte; Chicago; Cincinnati, Cleveland and Columbus, Ohio; Denver; Fort Worth, Texas; Hagerstown, Maryland; Indianapolis; Kansas City; Maybrook, New York; Memphis; Nashville; Pico Rivera, California; Portland; Salt Lake City; South Bend, Indiana; and Tracy, California.
Amazon rolling out Rivian electric delivery vehicles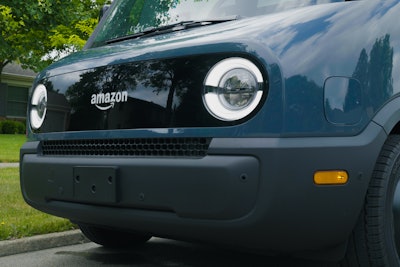 Amazon last week began rolling out custom electric delivery vehicles from Rivian to deliver Amazon packages, with the electric vehicles hitting the road in Baltimore, Chicago, Dallas, Kansas City, Nashville, Phoenix, San Diego, Seattle, and St. Louis, among other cities.
This rollout, Amazon said, is the beginning of what is expected to be thousands of Amazon's custom electric delivery vehicles in more than 100 cities by the end of this year – and 100,000 across the U.S. by 2030.
The vehicles are designed from the ground-up with safety, sustainability and comfort in mind, and have been thoroughly tested by drivers across the country. They are the product of Amazon's partnership with Rivian, which the companies announced in 2019 when Amazon co-founded, and became the first signatory of The Climate Pledge – a commitment to reach net-zero carbon across our operations by 2040.
As part of the Pledge, Amazon is creating a more sustainable delivery fleet, and its work with Rivian is a step toward decarbonizing its last mile logistics, as well as accelerating innovation that can help others reach net-zero carbon. With its commitment to have all 100,000 electric delivery vehicles on the road by 2030, Amazon will save millions of metric tons of carbon per year.
Amazon has been testing deliveries with Rivian preproduction vehicles since 2021, delivering more than 430,000 packages and accumulating more than 90,000 miles. This significant testing has allowed Rivian to continuously improve the vehicle's performance, safety and durability in various climates and geographies as well as its state-of-the-art features to ensure driver satisfaction, and overall functionality. Rivian has also completed certifications with the National Highway Traffic Safety Administration, California Air Resources Board, and U.S. Environmental Protection Agency.