How to use smart data to grow your sales
A good salesperson knows their job is never done. Converting a low-volume customer to add an additional product line; locking down a sought-after account; winning business away from a competitor. These are all great victories. But good salespeople know landing a sale today doesn't ensure another sale tomorrow. Customer needs and expectations are always changing.
One way sales teams in dealer and aftermarket operations can keep up with shifting customer priorities is through data. Whether it be customer specific, internally illuminating or broad market reporting, data is everywhere.
Over the years TPS has written about where to find data, how to approximate the value of available data and offered data analysis action plans. But when discussing data — especially in the dealer and aftermarket sectors — it's important to also not miss the forest while studying each of the trees.
Data helps inform salespeople. And informed salespeople move more product.
In Part I of this week's two-part feature on data-driven sales, we'll touch on how data analysis can bolster sales with existing customers. In Part II tomorrow, we'll share insights on how data can give sales teams a leg up with prospective customers.
Using data to expand an existing customer base
"Stu MacKay always says it's 10 times easier to sell to a guy who has had a transaction with you before than it is to sell to someone you've never met," says Bruckner's Truck & Equipment Vice President of Sales Brian Murphy, quoting longtime trucking data expert Stu MacKay of MacKay & Company. "Even if they just bought something small, like a taillight, they still have experience dealing with your business. They have an awareness of what you do."
Murphy says Bruckner's tries to drive that success rate even higher by integrating data into existing customer interactions. He again uses the taillight purchaser as an example. Murphy says if a parts business has contact information (a physical or email address) for that one-item buyer, they can send them promotional materials when that product or related parts are on sale. An email blast doesn't guarantee another purchase, but it shows the customer that the seller remembered their prior need and proactively attempted to service them again.
That's what data integration in sales is all about. Showcasing to customers you are aware of their challenges and want to help solve them.
[RELATED: Driven by Data. Making the most of your new data]
With existing (or prior) customers, there's no stronger data insight tool than transaction histories. Knowing what customers have previously purchased enables dealers and distributors to approach them intelligently and offer products and services that would meet their prior needs.
Procede Software's Excede Analytics business intelligence (BI) platform was built with those sales conversations in mind. Designed to offer dealers insight into all departments of their business, the company says the BI solution provides real-time contextual understanding of how a dealer business operates in a clear, concise manner.
And that simplicity matters. A robust business intelligence platform means nothing if users are unable or unwilling to engage. A salesperson several days into a busy week on the road seeing clients may not have a lot of time to prepare for a meeting when arriving at an existing customer facility. They need a data solution that can present talking points within minutes of engagement.
"One thing we've learned is when you start talking about complex, aggregated data, if you don't deliver that information in the most simplistic way possible, people are going to throw up their hands and they won't use it," says Eric Fortin, vice president of product, Procede Software. "Our tool enables users to drill down a granular level, but our dashboards are very direct with KPIs and key metrics users can understand."
AutoPower's BI solution does the same, says President Mike Mallory. "We press the importance of having sales guys bring their tablets into meetings with customers," he says. "Instead of the old way of bringing in a dozen doughnuts, bring in real, actionable information that can inform the meeting."
He adds, "Think about that customer who hammers you on for a price on a product for months then their buying slows … You can ask them what happened; did they find another supplier; do they need more inventory; should you stock something else? If something needs to change you can address it."
Internal sales data also can inform internal sales meetings. Mallory gives the example of one store far outselling its counterparts for a high-commodity item. "If somebody is doing something different and they are succeeding, you should want to know about it," he says.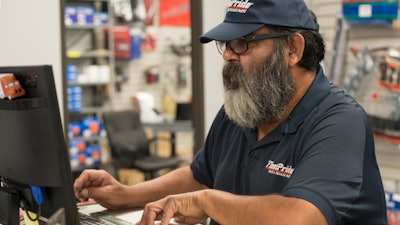 At FleetPride, data analysis has become a vital part of the national distributor's go-to market strategy. By evaluating sales across customer segments, markets and product categories — for both in-store and online sales — FleetPride is able to uncover a wealth of information that aid in customer conversations. One common tactic the company has found that helps grow existing customer spends is evaluating like customers — businesses with similar equipment, duty cycles and purchasing histories.
Mike Harris, FleetPride senior vice president of sales and operations, says customers appreciate when the distributor comes with them with analysis on their operation and offers suggestions of parts that similar customers are buying; adding those insights can go a long way toward maintaining a customer's business.
"We want to make sure we're always having relevant, value-add conversations with the right people about the right things," he says. "We want every interaction we have with a customer to help make it easier for them to run their business."
FleetPride Senior Vice President of Digital and Marketing Darren Taylor elaborates. "We don't just want to go in there and buy them pizza. We want to bring them something that helps solve a problem they have — or a problem they didn't even know they have," he says.
The simple value of familiarity shouldn't be overlooked either. Customers are more likely to positively receive data about their business (or data that could improve their business) from a trusted partner than a vendor off the street. Murphy says he tries to convey that to his sales associates when they engage with an existing customer about a new piece of equipment, product or solution offered by Bruckner's.
"They're your lowest hanging fruit," he says. "If you're servicing them well in one area, they should be open to hearing more from you."
Adds Bennett Whitnell, Procede's vice president of sales, "The easiest place to grow your business is the meat that's left on the bone that you're not chewing on."