Liftgate demand high as regional and last-mile trucking increase
As the regionalization of trucking increases and last-mile delivery continues to take up a larger slice of the freight market, truck buying strategies and specifications are evolving. Carriers that used to run only Class 8 sleepers are adding day cabs; OEMs are expanding their medium-duty product lines to fill growing market segments; and sales of pickup and delivery equipment is booming.
The changing marketplace offers massive growth opportunities for many specific product categories, such as liftgates.
Despite a supply chain that continues to slow new truck and trailer production, demand for liftgates has never been higher. And with industry projections showing the regionalization and final-mile centricity of truck transportation likely to continue, liftgate manufacturers are tirelessly connecting with OEMs, chassis manufacturers, upfitters and truck owners to ensure their product offerings are known and available to the industry.
"We are seeing a high demand for all our products across all segments," says Martin Saint, vice president, sales and product management for Hiab Tail Lifts, makers of the Waltco liftgate line. After two years of reduced demand due to the pandemic, Saint says Hiab Tail now has orders through December 2023, which reflects the market demand and the increased lead times now found in trucking's stressed out supply chain.
"[Our] supply is low but demand continues to grow," adds Gene Ayres, Palfinger vice president, sales, Liftgate division. "Especially in the medium-duty truck segment of the business."
Unlike many product lines with skyrocketing demand in 2022, liftgates aren't a new development in the trucking space. The Palfinger and Hiab Tail Class 2-8 product portfolios each include approximately a dozen models, many of which have been established for years. But as more carriers look for tools to increase loading and unloading time, liftgates are seeing more interest across the industry.
That's provided a good challenge for their manufacturers, which are trying to optimize their production lines to ensure they have the capacity necessary to meet demand from OEMs as their product capabilities hopefully increase in the months ahead. The manufacturers say they know demand will increase with production.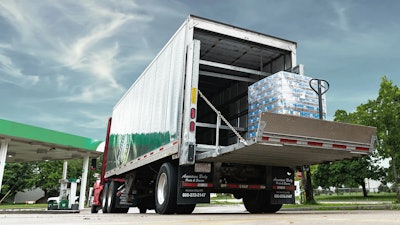 "The leading contributor to increased demand is the overwhelming growth for the final mile delivery segment of business," says Ayres. "The final mile delivery market in North America is expected to see growth of $59.8 billion from 2020 to 2025. The growth in the final mile delivery segment has presented Palfinger growth opportunities and demand for our liftgate products."
Adds Saint, "The increase in final mile/home delivery has increased the demand for our products in this segment. All product design development is focused on helping to reduce fuel, maintenance costs and environmental impact while boosting safety and efficiency."
The manufacturers also are preparing their sales teams to respond to growing customer interest and be prepared to serve customers who may not have a lot of experience spec'ing liftgates or are purchasing one for the first time.
"Our team interfaces with our customers and end users one to one, in person and in team settings, while assessing the needs, desires and budgets of our customers," says Ayres. "Along with the marketing tools of today, literature, online and social media channels, we also bring our products to the customer for demonstration."
Hiab Tail has similar tactics.
"Our professional, highly trained direct sales team is equipped with a wide variety of value selling tools, including animated videos, TCO calculators, product guides and demonstration vehicles," he says. "The most important way we communicate is to bring our customers to see our products being made in our new production facility in Ohio."
The latter could become a lot more common in the years ahead. New trucks and trailers are going to require a lot of liftgates.
"All indicators point to a strong Q3 and Q4 and Q1 of 2023 driven by the pent up demand and the prospect of the supply chain issues abating," Saint says.
Ayres says Palfinger isn't as optimistic on the supply chain normalizing that fast — "the remainder of 2022 we will continue to see supply chain challenges" — but believes liftgate demand is in a good place.
"Demand for liftgates should remain strong for the remainder of 2022," he says. "Staying proactive with the chassis and trailer manufacturers as they navigate thru production challenges, proper planning and forecasting of materials during supply chain shortages and overall team focus will bey key to success for Palfinger for the remainder of 2022 and 2023."