Nikola announces plans to open three hydrogen stations in California
Trucking news and briefs for Friday, Aug. 5, 2022:
Nikola adding three hydrogen stations in California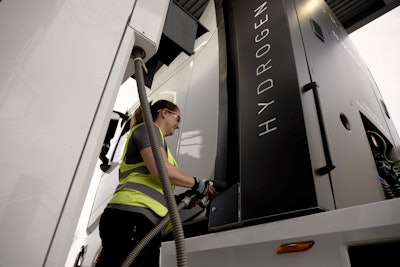 Nikola announced Thursday the locations of three California hydrogen stations to advance and scale up its long-term hydrogen distribution offerings to service market demand.
Nikola's integrated energy and zero-emissions truck portfolio will be underpinned by developing hydrogen supply and refueling infrastructure, an essential step in helping to decarbonize the heavy-duty transport sector.
The three California refueling stations and logistics infrastructure will be located in the cities of Colton, Ontario and a location servicing the Port of Long Beach. To further support truck demand, plans for additional stations are in progress and will be announced in the near future, the company said.
California is a launch market for Nikola, and the company said these stations will support key customers and advance the state's efforts to decarbonize the transport sector.
"This marks an important step in Nikola's ability to deliver innovative solutions and the infrastructure needed to decarbonize the transportation industry," said Pablo Koziner, President, Nikola Energy. "Our hydrogen refueling stations, along with a comprehensive energy supply, will provide customers the support needed to transition their fleets to zero-emissions." 
The Ontario location is part of Nikola's previously announced collaboration with TravelCenters of America.
Werner exec announces retirement
Werner Enterprises Executive Vice President, Treasurer and Chief Financial Officer John Steele has announced his retirement, bringing to a close a 33-year career at Werner – the last 25 years as the company's CFO.
Werner has begun a formal search for its next CFO, and Steele will remain in his role during the search and through the transition of his responsibilities to his successor.
Derek Leathers, Werner chairman, president and chief executive officer, recognized Steele as "a key member of our executive management team" and "an integral part of shaping Werner into one of the leading truckload transportation and logistics companies that it is today."
Steele called being part of the Werner team "a tremendous honor and privilege," adding a word of thanks to company founder CL Werner, Leathers, company directors and its leadership team. "I've enjoyed a rewarding and fulfilling career," he said.
Thailand trailer manufacturer enters U.S. market
Thailand's top trailer manufacturer, Panus, has entered the U.S. market with its first delivery of 150 container chassis.
Panus expects to supply more than 3,000 trailers to the North American market this year, 7,000 next year and 12,000 in 2024.
"The container chassis market in the United States is quite significant – more than 800,000 units operating in the service of ocean carriers, railroads, truckers and leasing companies," said Panus USA Director Ayman Awad. "Demand exceeds supply, and both additional and replacement equipment are needed."
Awad noted that Panus' trailer design and quality "are on a par, often exceeding, the typical USA chassis. The container chassis will be built to USA market specifications by Panus Assembly Thailand and, with the advantage of some creative design and pending patents, will be shipped to the USA where they will be competitive cost-wise, and often superior quality-wise."
Pending patents include a unique twist locks system and loading process that allows Panus to drop ship chassis in any port or inland location in the U.S. loaded in 40-foot High Cube containers.
GreatWest Kenworth opens new parts, service dealership
GreatWest Kenworth recently opened a new parts and service dealership in Balzac, Alberta, Canada, to support fleets and truck operators serving the greater Calgary and Airdrie markets. Balzac is located approximately 24 kilometers (15 miles) north from Calgary and 10 kilometers (6 miles) south of Airdrie. 
The newly constructed 32,000 square-foot dealership is on an 8.4-acre site, features 10 service bays, and a nearly 2,300 square-foot parts display area supported by a well-stocked 8,000 square-foot storage space.
GreatWest Kenworth — Balzac had temporarily operated at another company-owned facility since December while awaiting construction completion of its new facility. 
GreatWest Kenworth — Balzac's new location is at 292217 Prime Avenue, in Balzac, just off Highway 2, a major truck route that begins at the U.S. border and runs north, connecting Calgary and Edmonton. Hours of operation are 7 a.m. to 5 p.m. Monday through Friday. The phone number is 587-319-5950. 
GreatWest Kenworth operates five Kenworth dealerships in Alberta including, Calgary, Clairmont, Lethbridge, Redcliff, and Red Deer.