SAF-Holland introduces aftermarket Quick Parts Kit guide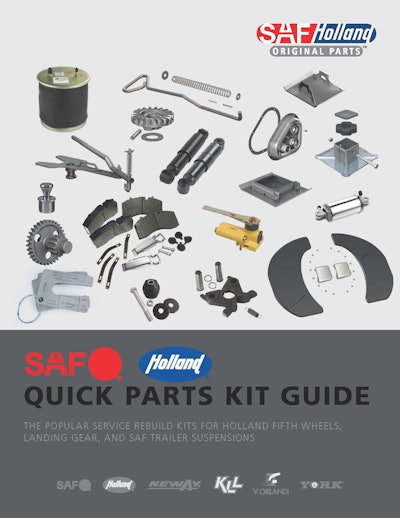 SAF-Holland has launched its new SAF-HOLLAND Aftermarket Quick Parts Kit Guide.
Created to provide complete visibility of its extensive line of service parts and tools, the company says the new Quick Parts Kit Guide will conveniently provide distributors and dealers with a comprehensive listing of the most popular service parts, kits and tools needed to meet their fleet customer's service needs.
These part kits are all readily available, competitively priced, and manufactured to original OEM quality standards, enabling fleets to get back on the road quickly, the company adds.
Stocking the most popular service kits streamlines inventory control, reduces required shelf space, and simplifies operations. And most importantly, it ensures that fleets are getting SAF-Holland 100 percent original quality, original performance, and original reliability.
The guide also helps to quickly identify the appropriate parts service kits required to preserve the premium performance of their SAF-Holland fifth wheels, axle suspensions, and landing gear, with service parts manufactured with the same original OEM quality as our first fit parts and components. Authorized distributors and dealers can order from one of the SAF-Holland Parts Distribution Centers, while fleets can order them through traditional parts sources, the company adds.
"We are excited to continue to provide the support our aftermarket customers need by offering parts for SAF, HOLLAND, and NEWAY, product lines," says Kevin Leyton, director of Aftermarket Sales, SAF-HOLLAND. "The guide helps to educate and equip our distributors and dealers, while reinforcing the importance of OEM quality SAF-Holland Original Parts for optimum performance and long life."