Truck driver pay increased in 2021
Demand for truck drivers and their services as the U.S. struggled to free itself from the grip of a global pandemic last year sent truck driver wages soaring, according to a survey conducted by the American Trucking Associations. 
ATA Chief Economist Bob Costello contended that a national truck driver shortage created "a very, very competitive market out there" just as freight rates and volumes were surging, pressuring fleets to level-up compensation plans in an effort to retain top drivers. The majority of fleet respondents to a CCJ survey conducted last year reported raising driver pay at least once in 2021, and more than one-third reported raising pay more than once. ATA found that more than 90% of truckload fleets, and every less-than-truckload fleet surveyed, raised pay in 2021.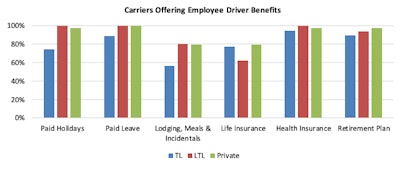 "The driver shortage, coupled with increased demand for goods in the post-pandemic economy, really drove driver salaries. These pay increases should put to lie the myths about the nature of this job – trucking is a path that can provide a well-paid career for Americans looking for one. [The trucking industry] is a path to the middle class, and there's not a lot of that left anymore," Costello said, adding that a driver with a safe driving record and clean drug and background check "can have a job in a couple of hours." 
The median pay for a truckload driver in 2021 was $69,000 – an 18% increase from ATA's previous survey in 2019. Over-the-road pay at LTL fleets (up 2.6% overall) reached $73,000, while LTL drivers on local routes were paid an estimated median amount of $55,000 last year. Truckload carriers were paying an average of $65,000 annually in high-touch final mile applications. Private carriers paid their employee drivers an estimated median amount of $85,000 last year, the same value reported in our 2019.
Non-drayage owner-operators that responded to the survey saw estimated median gross revenues of $235,000 in 2021, while owner-operators in the drayage sector saw median gross revenues of $164,000.
Noting that ATA collected data into the first two months of this year, Costello said about 60% of responding fleets planned pay increases in 2022.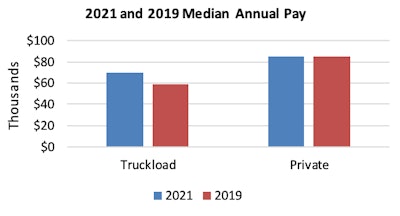 Paycheck totals aside, Costello noted there's an ongoing shift in how drivers are being paid. About 80% of respondents to ATA's query paid drivers by the mile, while 20% paid hourly or an annual salary – a figure "that would have been 90% to 95% a decade ago," he added. 
More money, too, was placed on the table to get applicants behind the wheel. Nearly all (96%) truckload carriers offered referral bonuses for new drivers and 54% offered sign-on bonuses. Referral bonuses had an average value of $1,150 – $150 higher than ATA's prior pay survey in 2019 – and sign-on bonuses climbed $750. Slightly fewer (82%) LTL carriers offered a referral bonus with a median amount of $875 – $80 higher than ATA's last survey – but tacked $1,500 more on the median sign-on bonus offered by 53% of LTL carriers. Referral bonuses were offered by 76% of private fleets with a median amount of $1,150 – $250 higher than ATA's prior survey – and there was a $4,000 spike in the median sign-on bonus.
Costello pegged for-hire driver turnover between 70% and 75%, mostly the result of drivers hopping between fleets and cashing in on sign-on bonuses. The disparity of growth in value between sign-on and referral bonuses, Costello said, was largely driven by a driver market that "got so tight in 2021, fleets were pretty desperate to get good, safe, responsible drivers," adding that, anecdotally, fleets generally prefer referral bonuses. 
Costello made clear his feelings that higher pay isn't the solution to a shortage of qualified drivers. "There's no one reason for the driver shortage, which means there's no one solution." he said, adding praise for the under-21 driver pilot program and renewed emphasis on apprenticeships.