Uniroyal re-enters U.S. market, launches 3 new tires
Trucking news and briefs for Monday, August 1, 2022:
Starsky Robotics founder back in the driverless game
The founder of Starsky Robotics, Stefan Seltz-Axmacher, has resurfaced with a new autonomous tech company, Polymath Robotics.
Starksy Robotics, an autonomous truck developer that operated as a roughly 50-truck motor carrier, wound down its operations after its funding dried up in March 2020. 
Polymath's focus isn't solely on the trucking industry, rather "most large outdoor vehicles that operate in a contained environment. Some examples are tractors, dump trucks, combines, yard trucks, or excavators.‍
While Starsky Robotics is believed to be the first company to drive an unmanned truck on a public highway, Polymath Robotics is not seeking to deploy its technology on public roads. 
Connecticut's Sculley named TAEC Chairman
The Trucking Association Executives Council announced Motor Transport Association of Connecticut President Joseph Sculley has been named national chairman with a one-year term.
Under the umbrella of the American Trucking Associations' Federation, TAEC is comprised of staff executives of state trucking associations, ATA and its affiliated conferences. The mission of TAEC is to promote the trucking industry, contribute to the improvement of the associations and organizations established to serve the trucking industry and to advance the professional stature and capabilities of the managers and executives of such associations.In addition, ATA announced Arkansas Trucking Association President Shannon Newton would be serving as TAEC Vice Chair.
Uniroyal re-enters U.S. market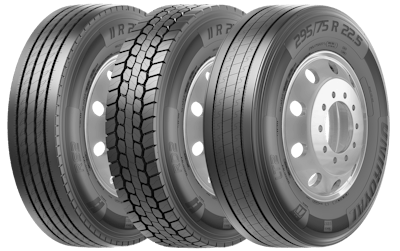 Uniroyal Tires has relaunched its commercial truck portfolio with the introduction of three tires for the U.S.
The LT2 Line Haul Trailer tire is now available at authorized Uniroyal truck tire dealers, in both standard and low-profile sizes for 22.5" and 24.5" rim diameter. The RS2 Regional Steer and RD2 Regional Drive tires will be available at the end of July at Uniroyal dealers. The RS2 and RD2 will have extended sizes into the 19.5" and 17.5" rim diameters to support last-mile-delivery fleets.
Orders can be placed at authorized dealers. 
"Uniroyal has a 125-year history in the tire industry. This new update to our line is meant for the cost-conscious buyer who is looking for reliability, durability and value in their tires from a trusted brand," said Coy Jones III, senior marketing manager for Michelin North America, Inc. "This is a completely new tread design across the three lines that is appealing to the market."